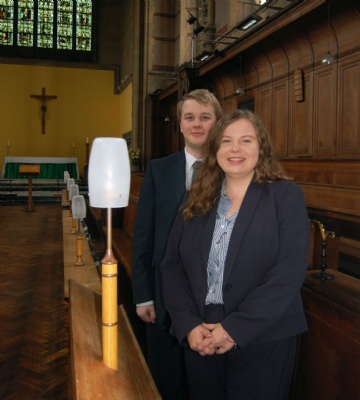 Emily Zehetmayr (soprano) and Ruben Dales (countertenor) have been selected to join The Rodolfus Choir.
Their talent was identified whilst attending an Eton Choral Course held at St John's College, Cambridge last summer.
The choir was founded by Ralph Allwood, MBE in 1984 and provides an opportunity for some of the UK's best singers aged under 25 to enjoy working towards high level concerts, recordings and radio broadcasts.
Emily joined Worksop College a year ago and has been singing professionally since she was 7, when she joined the Lincoln Cathedral Choir. Before that, she sang in amateur choirs at school and also Ready Steady Choir.
Ruben has been at Worksop College for three years, starting at the beginning of Year 10.
"I've been singing since the age of eight, in a multitude of different choirs," he said "I would love to take my singing further and possibly make it a career path in performance or opera."
Emily aims to secure a choral scholarship to Merton College Oxford and study Ancient History, with the view to doing a conversion course to law and becoming a defence barrister in a crown court.
Director of Music, Timothy Uglow said,
"Emily and Ruben are already very well known within our community for their excellent singing in our Chapel Services and Concerts and have already appeared as vocal soloists with our professional orchestra. It is pleasing to see them beginning to gain recognition at a national level and following in a strong tradition of choral excellence which has existed here for many years."