Our fee model aims to make it simple for families to determine affordability
As well as a number of different ways to pay, we also have a range of financial assistance available - including scholarships for pupils with outstanding ability in particular areas and very generous means-tested fee discounts (bursaries) for pupils whose parents require a financial contribution towards the cost of education.
In some cases, a remission can total a 100% discount, with some pupils being funded entirely by the school's charitable donations. This is typically a mixture of an award (recognises talent and skill) and a means-tested bursary (determines affordability).
Find out more by visiting our Scholarships and Bursaries pages.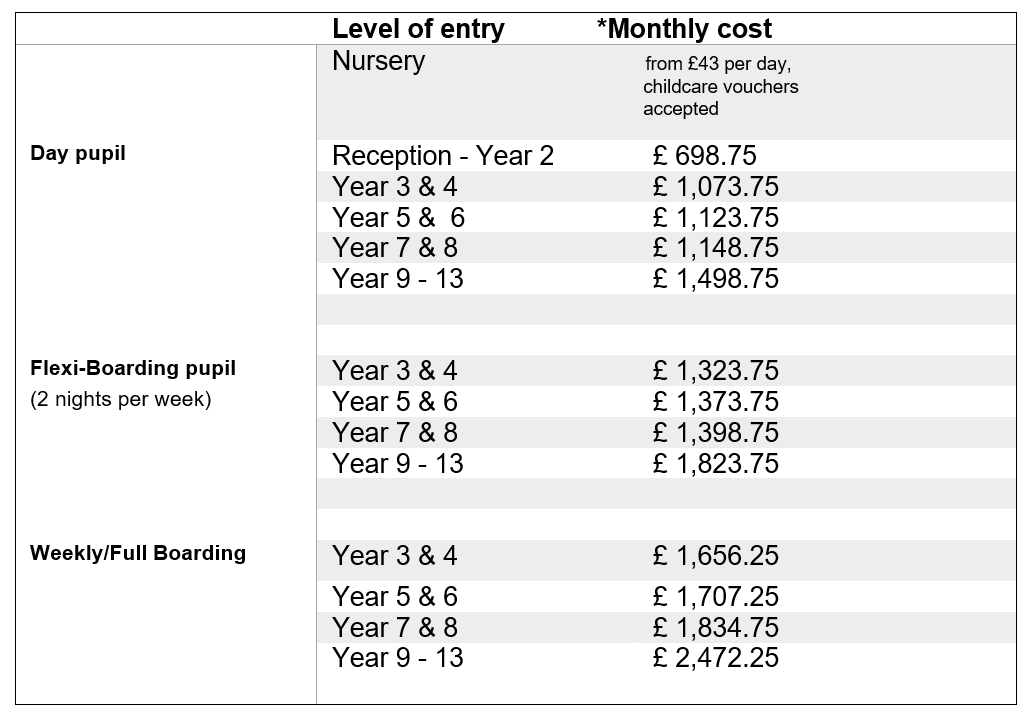 *Based on a monthly DD option, with payments spread over a 12-month period, beginning in August. More details can be obtained from our Admissions Department, by calling 01909 537100 or emailing admissions@wsnl.co.uk
Music tuition Years 1 - 6
The fees below represent 10 x 30-minute lessons. Fees are payable termly, in advance - as part of your Extra Charges bill.
| | |
| --- | --- |
| 1st Instrument | £199 |
| 2nd Instrument | £185 |
| 3rd Instrument | £175 |
| Shared Lesson | £102.50 |
| Instrument Hire | £10- 40 |
Music tuition years 7 - 13
The fees below represent 10 x 40-minute lessons per term. Fees are payable termly, in advance - as part of your Extra Charges bill.
| | |
| --- | --- |
| 1st Study (excl. string) | £250 |
| 1st Study (string) | £208 |
| Additional Instruments and Music Theory | £215 |
| Instrument Hire | £30-60 |
Ways to pay
Direct debit
We offer a monthly Direct Debit option for payment of school fees from Yr 1 upwards. Spread over 12 months (from August), this option enables you to budget for school fees as part of your other monthly household bills.
Advance Payment Scheme
Another popular option is our Advanced Fee Payment scheme, which proves useful for parents, and indeed grandparents, when considering future financial planning.
The scheme provides a reduction to the fees for those paying a lump sum to cover a longer period of fees, for example, the first three years or indeed the whole period of education. There are a number of advantages of such a scheme, which, depending upon individual tax circumstances can include:
The initial discount on the fees rate given
Estate planning/Inheritance tax planning
Potential income tax savings (the discounts are not usually taxable)
Please email admissions@wsnl.co.uk if you are interested in hearing more about Direct Debit or Advance Payment Options.
Overseas Payments
Flywire provides an easy and secure method of sending international payments - offering multiple payment options and excellent foreign currency exchange rates. You can pay your registration fee, deposit and ongoing fees through Flywire.
To make an international payment today, click here. You will be redirected to the Flywire website to initiate the payment.
Registration fee and deposit
Once you decide to register your child with us, we will take a £100 non-refundable registration fee. This fee is taken to cover the administration of the admissions process.
If you are offered and choose to accept a place, we also take a deposit. This deposit secures your child's place with us, and is refundable – usually returned to you upon your child leaving school.
Full details can be found in our Terms & Conditions, which will be sent to if you are offered a place.
Deposit levels from N1 – Yr 13 can be found below, but if you have any questions, please get in touch with the Admissions Team.
| | | | |
| --- | --- | --- | --- |
| Year | UK citizens | EU citizens | NON-EU citizens |
| Yr 1 – Yr 6 | £535 | £1605 | The equivalent of a term's fees for the year of entry |
| Yr 7 – Yr 13 | £640 | £1605 | £9955 |
Additional Lessons
| | |
| --- | --- |
| Additional lessons (individual) | £29 |