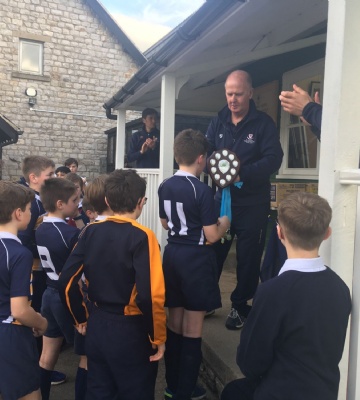 On Wednesday, our U11A Boys' Hockey team were the victorious winners of the U11 Hockey Tournament held at S. Anselm's School.
Director of Sport at Ranby House, Mr Mark Pymm gives a full report of the event:
"This was a great afternoon of hockey, with our U11As showing how well they can play when they come together as a team!
The first match ended in a draw, we had dominated in all areas - we just could not hit that backboard.
In the second match, our shape and structure were much better and Terra Nova did not shut us down, we pushed through the middle and scored easily.
Our final group match was against hosts S. Anselm's U11As. They were a skilful side who we dominated for the first five minutes, however, we began playing as individuals and questioning our teammate's decisions, not something we do here at Ranby House. A powerful strike from S. Anselm's flew in to the net – game over!
We were now second in the group and would play the other group winners, Hill House. They had beaten the teams in their group easily and by a large margin of goals - time for a chat. Do we want to play as a team or as individuals? Is everyone on this team capable of playing good hockey? What have we been taught and how are we going to play now? How well the team responded, we kept the ball, passed accurately and restricted Hill House's possession. After several well-worked moves and playing good hockey as a team, we scored.
Onto the final, we carried on where we left off and dominated the game throughout. A penalty corner allowed us to take the lead and the whole team battled to win and become the overall champions."
Well done boys – great effort!