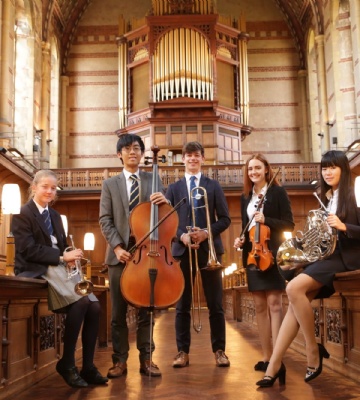 As part of our commitment to providing a breadth of opportunity, we are pleased to announce that from this academic year, we will be providing FREE tuition on an orchestral instrument to every member of Year 7.
Director of Music, Tim Uglow believes the benefits of the scheme will be numerous:
"This is a wonderful opportunity for pupils to experience the power of whole year-group participation and to foster a greater appreciation of musical achievement through direct practical experience," he said.
"The rise in importance of creative skills within the 21st Century workplace is well-documented and this scheme will supplement the broader cultural enrichment opportunities available at our school."
"Pupils will work in small groups or three or four – and will receive 30 lessons evenly distributed throughout the year. Lessons will take place during the school day and at the end of the academic year, we hope that pupils will choose to continue with the instrument."
As the project is an opportunity for young people to 'try' an instrument, the school will be providing access to FREE equipment for all Year 7 students, with Music Teachers showing pupils how to clean and care for them.
Vicky Bak is mum to Ruby in the U6 and also has Kristian, who will be joining the school in Year 7.
"I think it's a wonderful opportunity", she said. "Ruby is very musical and I've seen a direct link between her formal training in music and impact on other subjects. Her understanding of maths definitely improved."
"We're very excited about this new initiative", finished Tim. "We're looking forward to inspiring a new generation of music enthusiasts at Worksop College."