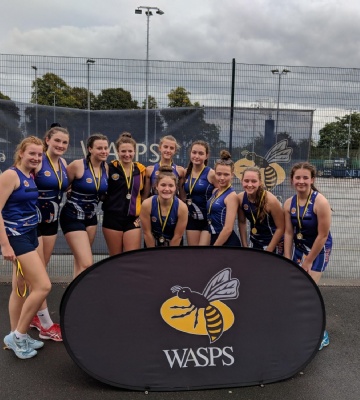 It has been an extremely positive start to the netball season for one of our year 9 Sports Scholars. Megan Perkins, who is in Derry House, found a real joy for the sport whilst playing at Ranby House School and readily admits that she owes great thanks to the belief her games teachers Miss Harvey and Mrs Wing had in her as an individual and as a player. "Being captain of my school's Year 6 netball team brought out the very best in me, it taught me how to be a team player, showed me I could lead and gave me a sport I absolutely love", she said.
Megan, who is on the England Pathway, plays for several teams under the guidance of her coach Vanessa Macerlain-Naylor at Brigg Netball Club and Aspire Academy, and has achieved multiple successes across two consecutive weekends.
Last weekend Megan competed in the East Midlands Regional league qualifying competition. Megan and her teammates dominated the field in spectacular fashion, winning every match by over thirty goals.
Coach Vanessa said: "At Aspire we aim to help each individual athlete achieve their potential and goals through hard work and dedication. Megan is doing just that and we are proud to be part of her journey."
This weekend the success continued, on Saturday she and her teammates dominated their U14 and U16 games in the Lincolnshire League, and went on to secure 56-1 and 58-19 wins respectively .
On Sunday Megan played in her debut game for Aspire Elite Academy - the team beat Warwickshire South in the final becoming the overall champions.
Well done Megan! We're very proud and look forward to seeing how far your determination and commitment can take you.