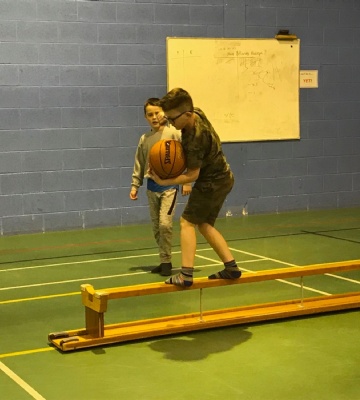 Ranby House boarders kick started the spring term this weekend with an evening of manhunt and obstacle races.
Head of Boarding, Ms Varney, gave us the lowdown on the events of the evening.
"After a short play in the boarders lounge with some of the new toys and games, the boarders ventured outside for an exciting game of manhunt, in the dark! Several pupils were kitted out in camouflage and others in ninja style black outfits - it took while to find everyone!"
After this, the group headed to the Sports Hall to take part in a team obstacle race. The pupils faced a variety of challenges: climbing through hoops, balancing on beams, throwing beanbags into buckets, jumping from hoop to hoop, shooting basketball hoops and plenty of running around!
Ms Varney continued,
"After two rounds of exhausting fun, we gave the boarders one final challenge - to go up against Mr Worsfield. With so many boarders stepping up to compete, Mr Sullivan and Edward joined forces to help Mr Worsfield out!
It was a nail-biting head-to-head race, but the boarders stole victory in the final leg! Then it was off for a well-deserved snack and drink before bed."
Having completed a busy first week back at school, and wearing them out with manhunt and the obstacle races, our tired, but happy boarders, fell fast asleep, pretty much straight away!
If you would like your child to join in the fun, please email ranbyboarding@wsnl.co.uk to book a place.