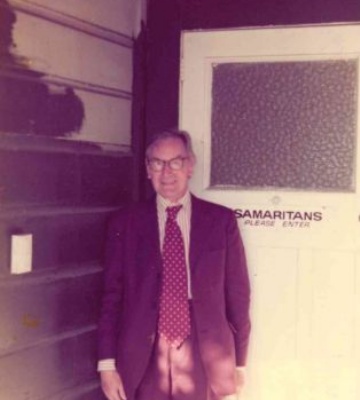 With this week being Mental Health Awareness Week, we thought it fitting to share the story of a very special and influential Old Worksopian.
The Samaritans, of whom you are probably familiar, was the world's first crisis hotline. It continues to grow, and provides support for those struggling to cope, often through their telephone helpline. However, what you may be unaware of is that Chad Varah, the founder of the charity, attended Worksop College.
Chad was in Pelham House from 1925 to 1930, expressing his enthusiasm for music and linguistics throughout his time here. His experience at Worksop College gave him the opportunity to win an exhibition in natural sciences at Keble College, Oxford. Shortly after, he realised his passion was in politics, philosophy and economics, so switched his subjects and acquired his degree in 1933. From there, Chad went on to be a priest, where he first noticed the need to support struggling people. He went on to dedicate his life to providing emotional support, caring for people, and teaching others how to do so.
Chad described his charity as "a man willing to listen, with a base and an emergency telephone", but since, it now has over 20,000 volunteers, across 201 branches and deals with over 5 million calls for help every year. The growth of volunteers means that the helpline is open 24/7, providing a listening ear for anyone who should want to express their concerns anonymously. Sharing their experience, an individual who had made use of the service stated "I'm not sure how I would be feeling today if I hadn't called, having someone listen to me without judgement felt like a weight lifted." We can say with confidence and pride that Chad's work has undoubtedly helped thousands of struggling people.
In honour of Mental Health Awareness Week, Deputy Head Pastoral, Mrs Futter, ensures Chad's legacy is woven into the fabric of Worksop College. For all too long there has been a stigma surrounding mental health, despite Chad Varah's efforts for change beginning in 1953. A stigma creates silence, which, in turn, prevents people from seeking help. With cases of teenage suicide being on the rise, it is unproductive to shy away from speaking of it openly. So, we want our students to be well aware of the support available to them. Should it be their houseparent, their tutor, one of our on-site nurses, or indeed a charity such as The Samaritans, there is always someone who will listen. To honour Chad's work, we aim to reduce the stigma surrounding mental health, and make it easier for students to confide in someone should they wish to.
In the words of Chad Varah himself, "there are in this world people who seem to be 'ordinary', but who turn out to be extraordinary. How? They listen and listen and listen, without interrupting."