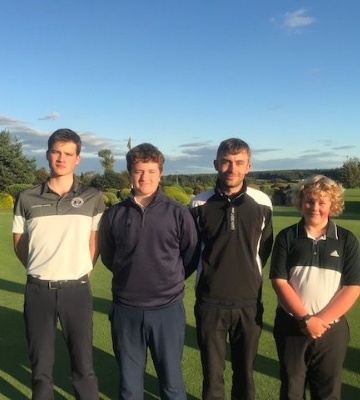 On Wednesday 2 October, our Golf B Team competed against Lincoln Minster in the first round of the ISGA (Independent Schools Golf Association) Schools Matchplay.
Representing the College were Will Smith, Hugo Sander (Captain) and Joseph Simpkin, with Hugo and Joseph making their debut appearances.
Director of Golf, Mr Cook, gave us a report of how the event unfolded,
"Will took an early lead in the first match; he showed his experience converting his lead into a 7 and 6 victory.
In the second match, Hugo had a very close game. Cheered on by Will, Hugo showed great passion, and even the occasional 'Tiger Woods fist pump'. Hugo gave everything he had to seal a victory on the 18th and final hole."
Unbeknown to Joe, this had sealed the victory for Worksop but he still had a fight on his hands.
"Joe had a challenging start after being four down after just seven holes. With only five holes to play, he still found himself four down and his tee shot in the hedge.
Defeat looked likely but Joe won the next hole, then the next and then the next! Suddenly, he was one down with two to play and the momentum was clearly on his side. A win on 17 meant they were all square playing the last hole. Joe had a put for victory, but it slid just by the hole.
This resulted in a half and arguably a fair result, concluding the match and a victory to Worksop of 2 ½ to ½."
The team progress to the next round of the competition to face either the College's A Team or our Headmaster's previous school, St James' – a grudge match either way!