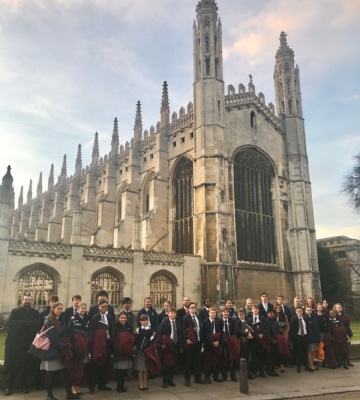 The Worksop Chapel Choir travelled to Cambridge on Wednesday 13 November to sing a joint Evensong with the choir of Queens' College, directed by Ralph Allwood.
Assistant Director of Music, Ms Phillips, gave us a rundown of the day,
"On arrival in Cambridge, we were treated to a reception in the Long Gallery in the President's Lodgings at the College which is one of the oldest parts of the university. The hard work then began with a rehearsal for Evensong which featured repertoire including Elgar's challenging anthem 'Great is the Lord', and Stanford's setting of the Magnificat and Nunc Dimittis in A."
The Evensong service was held in the candlelit Chapel of Queens', and provided a highly valuable opportunity for our students to sing alongside choral scholars from the University.
Ms Phillips continued:
"We would like to thank the staff and students of Queens' College for their warm welcome and hospitality. Our final thanks must go to Ralph Allwood for his inspirational musical direction. It will be an experience that will remain with the members of our Chapel Choir for many years to come."