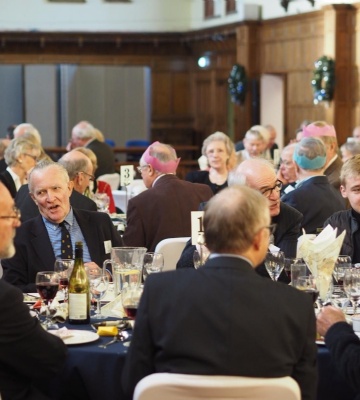 What a joyous occasion; to be treated to the company of over 60 OWs from the 1950s era!
Coming from far and wide, Sunday 1st December was a magical occasion as peers reunited after many years apart. Of course, there were cohorts of groups that have remained firm friends upon leaving and it was such a pleasure to see them huddled together reminiscing. Reuniting some of those who perhaps had lost contact over the years was incredibly moving for me. It really brought home the history this group of people have shared and the memories they have to tell.
Alumni Relations Officer, Lucy Smithson explained,

"We enjoyed a three course festive luncheon courtesy of our wonderful catering team (it's safe to say the food has been one thing to change since this era's time here) and ate under the watchful eye of former Headmaster Northcote Green, chuckling at the scathing remarks found upon their student record cards.
I really can't thank everyone who came enough – a day that will remain with me for many years to come."
To view the photographs from the event click HERE.
If you are interested in hosting a reunion of your era, please do get in touch by emailing Lucy at l.smithson@wsnl.co.uk