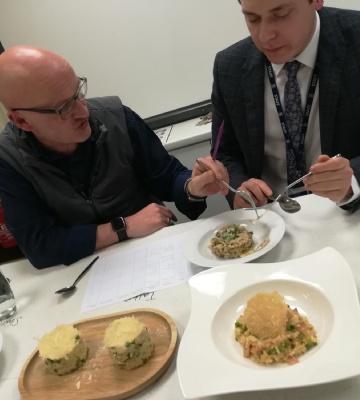 Last week the House Cookery Competition came to a tense close as four Houses battled it out in the final round.
Students were challenged with preparing, cooking and serving a savoury risotto with parmesan crisps.
Catering Manager, Mr Simon Youngs and ICT Technician, Mr Dan Arkless volunteered their time and their taste buds to judge the event. The defining quote of the afternoon was,
"Excellent standard of cooking and presentation; the margin of victory was tiny and all could have won."
Results
1 School House
2 Gibbs
3 Shirley
4 Talbot
Head of Food and Nutrition, Mrs Christodoulou said,
"Well done to all the chefs and pot washers for their efforts. It was clear there had been much forward thinking and planning, and the teamwork and communication was evident - there was an incredibly positive atmosphere!"
Congratulations School House!